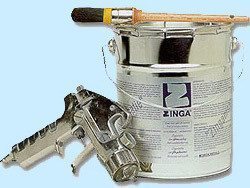 Zinga Paint and Spray Gun
Zinga is a film galvanising system comprising precisely milled zinc particles suspended in a unique aromatic liquid base. Zinga will bond to any prepared steel substrate to form a finished surface layer of 96% zinc. Zinga offers all the advantages of hot-dip galvanising and thermal zinc spray but without the application and overcoating problems. Zinga has been approved to NORSOK Standard M- 501 Revision 5 to meet the exacting demands of the Oil and Gas Industry.
If you would like to contact a member of our sales team, please call Belfast +44 (0) 2890 454599, Ashbourne +353 (01) 8027173, or click the button below to send your enquiry via email.
ENERGY, OIL & GAS
MARINE & OFFSHORE
CONSTRUCTION
LIGHT & HEAVY ENGINEERING
MANUFACTURING
TRANSPORT, RAIL, AUTOMATIVE
WATER AND SEWAGE
AGRICULTURE
FOOD & FISHERIES
ARCHITECTURAL /RESTORATION
Zinga protects longer than hot dip galvanising at the same dft. It is extremely versatile and can be applied on site to any size of surface from the smallest nut to large bridges.
It can be recharged, later applications fusing with the first coat to form a single layer. It is highly resitant to mechanical abrasion and has excellent adhesion qualities. It can be applied on damp surfaces or in extreme temperatures and is weldable to x-ray quality.
TPS Runcorn
A combination of hot-dip galvanising and film galvanising.
Fawley, Southampton
Correcting Corrosion of Floating Oil Tank Roof.
Glasgow
Refurbishment of cast-iron fountain.
Dublin
Protective Zinganisation of steelwork at Jacobsan House.
Galway
Protective coating of pipework at gas-pumping station.