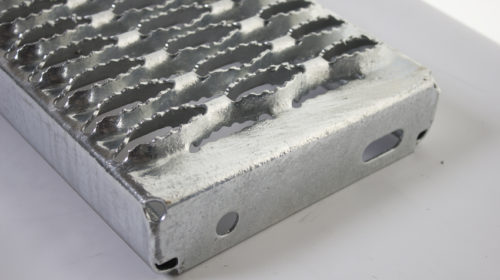 USA Safety Grating is manufactured with a walking surface consisting of a high slip resistant open diamond pattern matrix.  It has a diamond pattern with a serrated surface and load supporting continuous side flange.
It is designed to provide a safe walking surface where slippery substances could be part of the walking environment.  Its design can provide a high load capacity to suit modern engineering activities.
USA Safety Grating and planks are identified by oval, serrated holes that provide the top flange of planks with a very high load capacity, and rolled side flanges that further reinforce the planks and gratings.  It can be used where requirements of slip resistance and drainage are high.  May be used either as individual elements or welded together to form gratings.
Material: Mild Steel or Aluminium or Stainless Steel
Thickness: 2mm Steel or 3mm Aluminium
Height: 38 or 51 mm
Width: See Table Below
Hole Size: 47mm x 15mm nominally
Finish: Self Colour or Galvanised to BS EN 1461