Precision Perforated Metal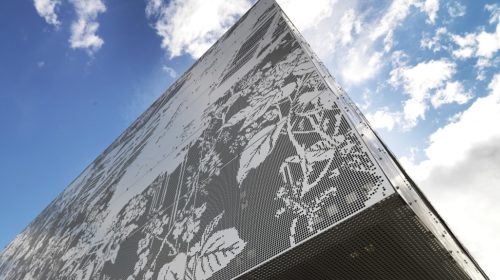 One of the most exciting developments in architecture today, precision perforated metal is now available at Ridgeway. The very latest technology in laser perforation allows complex designs from photographs to be punched onto steel panels creating unique facades and cladding for building exteriors.
The precision perforated technology is part of the innovative City Emotion range from RMIG, the world's largest manufacturer and supplier of perforated metal. Working closely with the architect, designs from photographs are processed using software to create a unique perforation programme, which generates an exact sequence of 8 – 20 mm circular punches. Contact our sales team today for more information by clicking on the button below.
Exterior cladding projects in the commercial, housing and public sectors where images are used to provide an aesthetic exterior to a range of buildings.
Facilitates creativity beyond the normal product range.
Turns the vision of the designer or architect into reality.
Strength and durability along with aesthetic appeal.