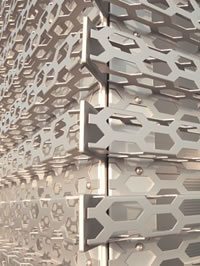 The RMIG City Emotion range, now available at Ridgeway, prioritises aesthetic appeal alongside functionality. Imagine reinvigorating an old building with a unique and eye-catching facade, or incorporating panels in a glass roof to ensure the flow of daylight is soft and controlled, and you can begin to see how this innovative product range provides inspiring solutions for all kinds of urban design projects.
Perforated metal mesh can be used for ceilings, interiors, exterior facades, screening, balustrades, cladding, airport and outdoor furniture, and security products. Ridgeway have been instrumental in developing the use of perforated metal mesh products in Northern Ireland and can provide a level of technical expertise well beyond other stockists.
If you would like to contact a member of our sales team, please call Belfast +44 (0) 2890 454599, Ashbourne +353 (01) 8027173, or click the button below to send your enquiry via email.