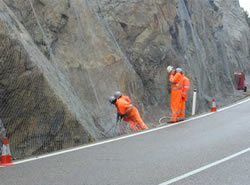 Hexagonal rock netting is used to address the problem of instability of loose material, soil and rocks whch might dislodge from slopes during works. It acts as a retaining structure. In all instances professional engineering advice should be sought to define the most appropriate solution.
Please feel free to contact a member of our sales team on Belfast +44 (0) 2890 454599 Ashbourne +353 (01) 8027173 or click the button below to send your enquiry via email.

During demanding soil cutting works, the use of retention structures are frequent.
Multiple alternatives are available for these structures, such as those that avoid the loss of stability of the slope (retaining structures) and those that are in charge of guiding loose material that may detach from the rock or slope face.
Hexagonal rock netting is used to resolve these types of problems.
Woven wire rock netting is supplied in roll format, being produced by double twisting plastic coated galvanised mesh into hexagonal shaped apertures.
The fabric of the netting is manufactured from a 2.7mm wire diameter and terminated onto a heavier 3.40mm selvedge wire.