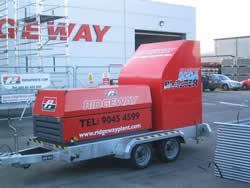 Sand blasting and grid blasting have long been used as industrial cleaning and surface preparation techniques. However they have obvious health and safety issues for both the operators and the surrounding environment. Over the last few years the environmental impact of these methods have dictated a fresh approach and new thinking.
One of these approaches has been the Soda blast equipment. Available to hire or buy from Ridgeway the soda blaster provides a cost effective and safe solution for heavy duty industrial cleaning. It works by blasting sodium bicarbonate particles against the surface to be cleaned using low pressure compressed air.
Features
Can be used in the petroleum industry due to the non-flammable properties of sodium bicarbonate.
Breaks down hydrocarbons therefore is suitable for engine cleaning.
Surface-tension of metal is not broken, which eliminates the problem of flash-rusting.
Cost effective and produces excellent cleaning results.
If you would like to contact a member of our hire team, please call our offices in Belfast +44 028(90) 454599, Ashbourne +353 (01)802 7173, or click the button below to send your enquiry via email.
Industrial cleaning
Petroleum cleaning
Cleaning of engines and engine parts
The non-abrasive properties means the soda blaster can be used on surfaces which would be damaged by abrasive substances. Surfaces which can be cleaned include:
– Aluminium
– Stainless Steel
– Stone
– Fibreglass
– Wood
– Plastics
– Bearings
– Hydraulic Cylinders