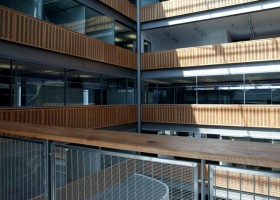 Woven Metal Meshes for architecture are available in many different patterns, each with its own characteristics and optical effect, with specific degrees of density, texture or transparency. In addition many of these patterns are self-supporting, therefore reducing both the cost and complexity of fabrication and installation.
Acoustic Panels
Garden Architecture
Balustrading
GatesLift Enclosures
Seating
Cladding Façade or staircases
Staircase Screens
Sun Screening
Exhibition Stands
Radiator Grilles
Walkways, Flooring and Grating
Ornamental Metalwork
Room Dividers
 Wall Covering
Our range of woven meshes are available in a variety of patterns and designs offering a range of effects when used in architectural applications.  Please click here to view our pattern library where you can view each of the patterns and their dimensions and characteristics at a glance.