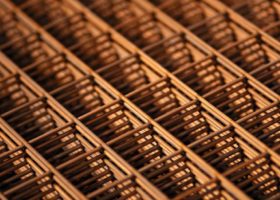 Weldmesh is manufactured in both roll and panel forms, with vertical and horizontal wires electrically welded at each intersection providing a very strong and versatile product.
A wide range of sheets are stocked in pallet quantities, in a variety of wire diameters and mesh sizes to suit typical Weldmesh applications, such as: dog runs, hay racks, machine guards, window guards, aviary cages, material handling, building, construction, agriculture and horticulture.
Security Cages
Aviaries
Perimeter Security
Screening
Window Grills
Light Reinforcement
Welded Mesh Galvanised Panels
TECHNICAL DATA:
Material: Low Carbon mild steel, conforming to BS EN 10016-1 Grade C9D.
Wire Properties:
Wire Size (mm)          Wire Tensile Strength (N/mm²)
12g (2.50 nominal)  Typical Range: 650/850
10g (3.08 nominal)  Typical Range: 600/800
8g (4.00 nominal)*  Typical Range: 550/750
* Externally Galvanised