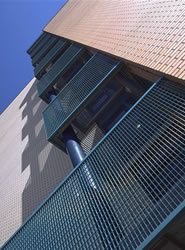 We offer a wide variety of bespoke architectural press gratings & perforated planks through our longstanding association with various high quality European manufacturers. These products are widely used in construction, engineering and manufacturing environments. Due to its versatility, aesthetics & functionality, it is now often used  in architectural applications such as façade cladding, brise soleil, sun screening or balustrade infills.
The vast and flexible range of applications means that the number of permutations are endless and as such it is generally a made to order product to specification. Ridgeway are pleased to support and advise clients in the selection of the most appropriate product for the application to suit the budget of a project and aesthetics  to please clients demands.
If you would like to contact a member of our sales team, please call Belfast +44 (0) 2890 454599, Ashbourne +353 (01) 8027173, or click the button below to send your enquiry via email.
Applications:
Industrial Flooring
Balustrade Infill
Carpark screens and protection
Louvre Screening
Offshore Applications
Shipbuilding
Architectural Features
Brise Soleil / Cladding / Water Features
Architectural Press Grating Product Types include:
RR – Regular Press Grating
RL – Louvred Grating
RO – Round Cross Bar Grating
AP – Perfo
USA Style – Q Grates
All products are available in a variety of finished to include:
Mild Steel
Galvanised
Aluminium
Stainless Steel (Grade 304 and 316)