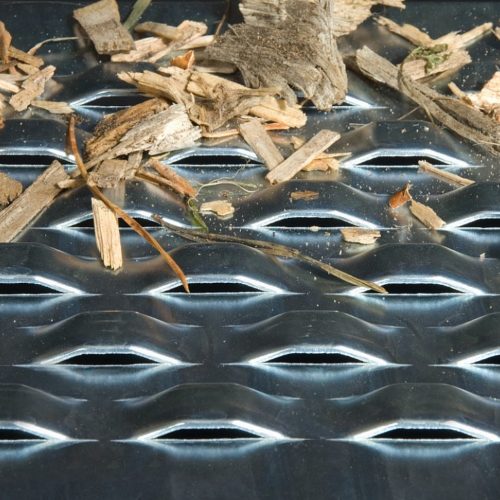 Our Bridge Slot Perforation is a special perforation manufactured with exacting precision.  With the combination of heavy sheet thickness and very fine openings Bridge Slot provides a great resistance for filtering and ventilation.
Applications:
Bridge Slot is often used for water drainage shafts and drying.
Typical applications are:
Drying and storing solid matters and materials of all kinds -Including herbs, tea, grain and grass seed, maize, rape seed and wood chips
Filters for fountains and drainage
Our Bridge Slot Perforation open area is variable and depends on the depth of embossing.  An embossed depth of 1.5 mm (suitable for rape seed) provides an open area of 3.7% for ventilation.  Sheets with an embossed depth of 3.0 mm gives an open area of 9.1%.
The ideal area for seed grain to be stored is an area with a moisture content of less than 14.5%.  if the storage area is too moist fungus infestation and self-heating can follow.  Ridgeway's Bridge Slot Sheets offer you a drying solution with appropriate optimised ventilation.  Bridge Slot Sheets allow permanent free flowing ventilation.
Ridgeway offer you:
Guidance for the optimal storage and drying solution
Additional ventilation sheets or replacement of existing damaged ventilation sheets
Production of different material thickness
Additional fixing holes and bending as required
If you would like to contact a member of our sales team, please call Belfast +44 (0) 2890 454599, Ashbourne +353 (01) 8027173, or click the button below to send your enquiry via email.