Meet the next generation of mesh gratings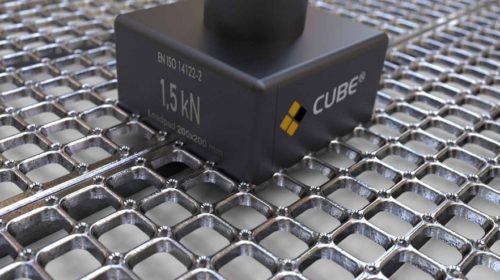 Ridgeway are now stocking the new patent B-Cube Grating.  It is a brand new alternative to the traditional 33 x 33 mesh gratings.   It is designed, developed and manufactured by PcP.  The B-Cube Mesh Gratings embrace design, quality and safety and can be applied in all the industries where the 33×33 mesh gratings are used today.  It is a punched hole mesh grating which combines light weight and high strength and is a suitable and cost-efficient solution for the construction industry where grating panels and stair treads are needed.
Embrace cost efficiency, safety and modern design with B-Cube Mesh Gratings
The B-Cube is a punch hole mesh grating designed for both robustness and low weight without compromising quality and design.
Unique design: – The B-Cube Mesh Grating is the latest innovation, new to the world and comes with a unique and modern design and manufacturing technology
Simple and quick installation: – The B-Cube Mesh Gratings are simple to install and easy to adapt to any structural layout. Traditional mesh grating stair treads are quick and easy to replace with the new CUBE grating stair treads.
High strength & low weight: – The B-Cube Mesh Grating has the optimal balance between weight and strength making it a suitable and cost-efficient solution for all types of industrial applications.  It has a lower weight than the traditional mesh grating while maintaining high strength.
High slip resistance: – Tested and approved by German and English certifying bodies,  B-Cube gratings and stair treads have a high slip resistance due to the surface design. It is tested and approved according to DIN 51130.
EN ISO 14122: – The B-Cube Mesh Grating complies to the European standard EN ISO 14122. 
Cut-outs: – You can easily make cut-outs on-site or let us help you customize your project.
Accessories: – We supply various fixing clamps and kick flats for platforms and walkways
Ball proof:- The CUBE gratings are 35 mm ball-proof according to EN ISO 14122-2 and comply to BS 4592 Part 0: 2006 +A1: 2012
3 Different types available
Grating Panels:-  We supply grating panels in stock to help you build your own grating.
Fabricated Gratings:- We offer standard fabricated gratings and customised solutions.
Stair treads:- We supply standard stair treads.
To speak to a member of our sales team please contact either Belfast: +44 (0) 28 90454599, Ashbourne: +353 (01) 802 7173 or alternative click the button below to submit your enquiry via email.