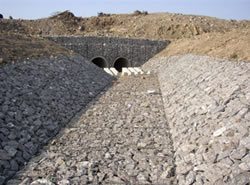 Weldmesh Mattress is prefabricated from welded steel wire mesh. They are large in plan compared to their height and are pre-clipped in a penfold fashion with stainless steel clips every third mesh space in the factory with the lids left loose for transportation purposes.
The units flat pack down for storage and ease of handling.
Please feel free to contact a member of our sales team on Belfast +44 (0) 2890 454599 Ashbourne +353 (01) 8027173 or click the button below to send your enquiry via email.

Weldmesh mattresses are large in plan compared to their height and supplied in multiples of the mesh aperture typically up to 300mm high. They are subdivided with internal diaphragms placed at 1m intervals to give maximum internal compartment sizes of 2m x 1m.
Where water flow is high, additional internal diaphragms may be placed to reduce the compartment sizes and prevent movement or migration of stone. The correct grade of stone is essential as well as packing of the compartments to reduce the potential for movement.
Mattresses are manufactured from lighter grades of wire for their flexibility. Applications include scour protection beneath gabion walls where erosion in watercourses is prevalent and as channel lining to storm water drains and culverts.