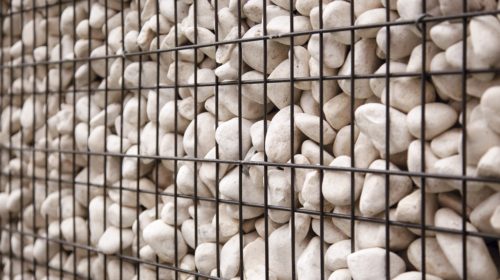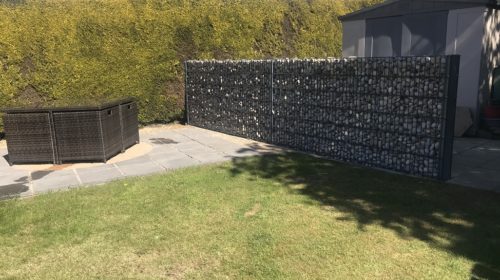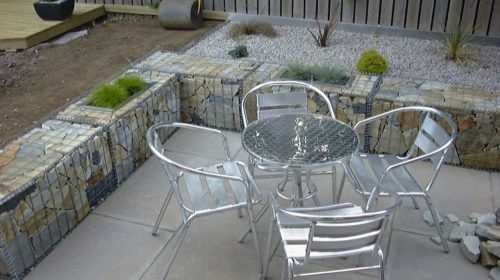 The Ridgeway Gabion fence is a natural alternative to traditional fencing.
The strength of the Ridgeway Gabion fence is its versatility. It is easy to install and can be used for different purposes and in various configurations that offer privacy and security.
Our Gabion fence can be filled with a variety of natural materials that will allow you to produce walls and boundaries that complement their environment including:
• Residential developments, gardens and communal areas
• Public buildings
• Parks and green spaces
From a closed partition to a garden feature, it offers a unique and highly personal character that combines strength and natural beauty.
Quality:
• Welded from round galvanised wires, it creates a strong character to any garden or green space by combining varying mesh sizes and the double and alternating horizontal wires.
• Offers lots of possibilities for personalisation.
• Climbing plants and Sedums feel at home on the strong grid support. The panel is also highly suited as a decorative garden element in the form of a stand alone garden panel or as a wall panel.
• The panels can be filled with Sedums to create a 'living wall' or any number of decorative natural items such as stones, pebbles, tree bark, branches
Panels: 
• Panels, welded round wires
• Double alternating horizontal wires
• Galvanized and polyester plastic coated
• Horizontal wire diameter: 5.0mm
• Verticle wire diameter: 4.15mm
• Mesh : 100 x 50/ 50 x 50mm
• Colour: anthracite grey BF 7016M
Posts For Filled Wall:
• Rectangular posts 120 x 40mm
• For filled wall
• With M6 inserts on both sides
• Galvanized and polyester coated
• Zenturo/Zenturo Super panels to be mounted on these posts using specific spider clips
• Colour: anthracite grey BF 7016M
Spider Clips:
• Metal spider clips
• Galvanized and polyester coated
• To be fixed to the post using stainless steel hexagonal safety bolts M6 x 40 and stainless stell washers
• Colour: anthracite grey BF 7016M
Spacers:
• Made of steel wire
• Wire dia. 2.90mm
• Zincalu Super