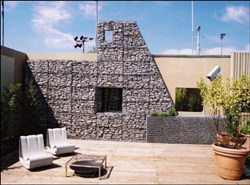 Concertainer Trapions are a form of Gabion manufactured from welded wire mesh panels with either one or both faces inclined at varying angles to the horizontal dependant upon the unit height.
They are supplied in lengths of 1, 2 or 3m or part lengths thereof and pre-assembled with helical spirals for flat packing and ease of transportation to site.
Please feel free to contact a member of our sales team on Belfast +44 (0) 2890 454599 Ashbourne +353 (01) 8027173 or click the button below to send your enquiry via email.
Email Enquiry

Aesthetic and architectural reinforcement for buildings, roads and railways. An effective solution to combat erosion and to stabilise and strengthen, whilst adding decorative appeal and utilising eco-friendly materials.
Trapions are engineered for dimensional rigidity and stability in structural applications. This inclination of the walls normally at around 8% degrees from the vertical is essential for the stability of these gravity systems.
They are trapezoidal in section to permit easy construction of free standing flush faced (non stepped) tapered walls to act as either sound bunds alongside roads and railways dependant upon what they are filled with or as simple decorative perimeter walls.
The wall ends are terminated with prefabricated trapezoidal shaped Weldmesh panels. Trapions are normally filled with clean graded gabion stone for a rustic appearance.
In circumstances where a vegetative face is required specialist advice should be sought from suitably qualified landscape architects to ensure that the correct mix of filling mediums, irrigation and planted materials are used to sustain growth.